HELLO EVERYONE! As you may know my name is Thorn, and I'm working on a Trick room ream because I HATE PEOPLE XD (kidding, really)
Anyway, this is completely unrelated to that. This is (hopefully) going to be a semi-regular guide to HOW NOT TO PLAY POKEMON. If you were looking for move sets to take to a competitive format THIS IS NOT THE THREAD FOR YOU! If you want to win every battle THIS IS NOT THE THREAD FOR YOU. If you want to ruin someone's day, and make your friends throw their DSs at you in blind rage and disgust,
WELCOME HOME.
Now, this is mostly a thought exercise, because I don't have a horde of pokemon I can use to test every single move set, though I hope to one day. If I do test any of the following sets, I'll post my results, and I encourage you too as well! I'd love to hear any suggestions and ideas you all have for really troll-ish and gimmicky sets.
Now, first, lemme get something straight. Trolling does not mean using ubers online and pwning everyone with your base stats of over 9000, or using speed boost blaziken to high-jump kick your friends bibarel into next Thursday. Those are really good pokemon simply doing what they do. Trolling and Gimmicks (as I choose to define them) are taking a less common pokemon (usually) and combining moves and abilities in a way that creates a neat trick or effect that is unexpected. That doesn't necessarily make it
good
but it should at the very least catch someone off guard, and then if they are unprepared for it, give them a hard time.
For today's installment I actually have 3 neat gimmicks that are varying levels of trollitude, just to show you what this guide is about. I present
Funbro, Truant Tag, and [s]Contrary To Popular Belief[/s].
Funbro
Funbro is actually what inspired this guide. He is very trollish, banned by smogon, and most importantly, will make everyone you know hate your guts. The set up is this:
Slowbro @ Leppa Berry
Ability: Oblivious
EVs: 252 Def / 252 SDef / 4 HP
Calm Nature
- Recycle
- Block
- Slack Off
- Heal Pulse
Now, this set won't be possible in online play until pokebank because Recycle is a move tutor move on slowbro (and you should thank Arceus for that, this set is evil). The gist of it is this: Switch Slowbro in on something that can't 2HKO him. Use block to trap them in. Use slack off to stall them to death, recycling your berry when you run out of PP. Once they start using struggle, they think that they can let their poke die and move on with their lives.
NOPE! If you keep using Heal pulse to counteract their struggle recoil the battle will persist until a)You get bored torturing them b) the time runs out, or most likely c) They rage quit. The beauty of this set is that Slowbro makes it so easy. Oblivious stops taunt from preventing him from using his moves, his high defenses make almost any switch a safe switch, and his move pool makes it all possible.
Now, while funbro is a utter demon, let's see if we can't make him actually usable?
Slowbro @ Mystic Water/Odd Incense/ other(maybe lefties?)
Ability: Oblivious
EVs: 252 Def / 252 SDef / 4 HP (or max out HP and SpAtk)
Calm/Quiet Nature
- Scald/Psychic/Psyshock
- Block
- Slack Off
- Calm Mind(or switch to slowking for Nasty Plot! which works because Blcok is an egg move, and Slack off is learned pre-evolution!)
Tada! You just turned Slowbro into a set up sweeper. Same rules apply, find something that can't 2HKO him, or set up on him, block it, and then set up to taste! Slack off whenever you need the health, and once your SpAtk is at it's peak, sweep away! Scald let's him burn anything he can't OHKO, why Psyshock let's him target physical defense. Personally, I'd go for scald, as it burns 1-out-of-3 times unless your unlucky. If you get entry hazards up before Slowbro comes in, it makes his job easier by breaking sturdy, sashes, and Marvel scale.
Next up:
Truant Tag
This video is where I found this set, and I just gotta say I LOVE IT
Durant @ Focus Sash
Ability: Truant
EVs: Don't matter
Nature Don't matter
- Entrainment (ONLY THING THAT MATTERS)
- Agility/Rock Polish
- Baton Pass
- Protect
Gothitelle @ Life Orb
Ability: Shadow Tag
EVs: 252 SAtk / 252 Spd / 4 HP
Timid Nature
- Calm Mind
- Protect
- Psychic/Shadow Ball/Thunderbolt
- Psychic/Shadow Ball/Thunderbolt/Any other coverage move you want
So, the video displays this set REALLY WELL. Durant comes in, uses entrainment on something that can't switch out of Gothitelle, and it's job is done, let it die. If it can survive a few more turns and you opponent doesn't try and switch out, boost up your speed and baton pass it. Your opponent becomes trapped, and you know exactly what turns you need to protect and which turns you can set up calm mind. AND THEY JUST HAFTA TAKE IT!!! Then you sweep. Much less trollish then Funbro, but come on, it is gonna cause some rage and it's FUN.
[s]Contrary to Popular Belief[/s]
So. I could have just deleted this, because, as I was doing my research, I came to find out that Malamar cannot learn Skill swap, which is DEPRESSING! Because if you paired Contrary Skill Swap Malamar with a pokemon that uses Draco Meteor, Over Heat, or any similar move that lowers the users stats, it would be FEARSOME in a double battle. And I wanted that, because I have been trying FOREVER to come up with a decent Malamar set that wasn't Super Power Malamar. and while Skill Swap Malamar isn't a thing, I did manage to come up with Trollamar, though it requires more set up and isn't as good, I still thought I'd share. Not because the gimmick is super amazing, but because everything this set does annoys people.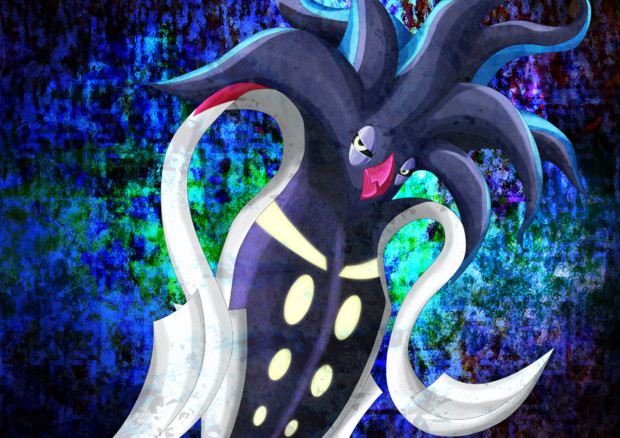 Malamar @ Toxic Orb
Ability: Contrary
EVs: 252 Spd / 252 HP / 4 Atk
Jolly Nature
- Simple Beam
- Topsy-turvy
- Superpower
- Switcheroo
Not as good as Skill swap but you work with what ya have. First turn is a switcheroo to ruin your opponents day (you could also run a choice item, flame orb, lagging tail, iron ball, basically any item that most pokemon do not wanna hold. Heck, sticky barb if you wanna be REALLY trollish), while whoever you pair him with opens with Draco Meteor or Over Heat, etc. Something that deals damage and lowers stats. Hopefully Malamar out speeds his partner and didn't get a choice item (if you did, give it away) and he can hit his partner with simple beam before he attacks. That results in him dropping to -6.
Which is when you use topsy-turvy. Turn 3 and your sweeper is +6 and has attacked every turn. Switch to heat wave, flamethrower, dragon pulse, what ever, and destroy EVERYTHING. With everything weekend from poison/burn and your last two attacks, you should be set to ruin someone's day. The problem of course is surviving to turn 3. Best of luck to you XD